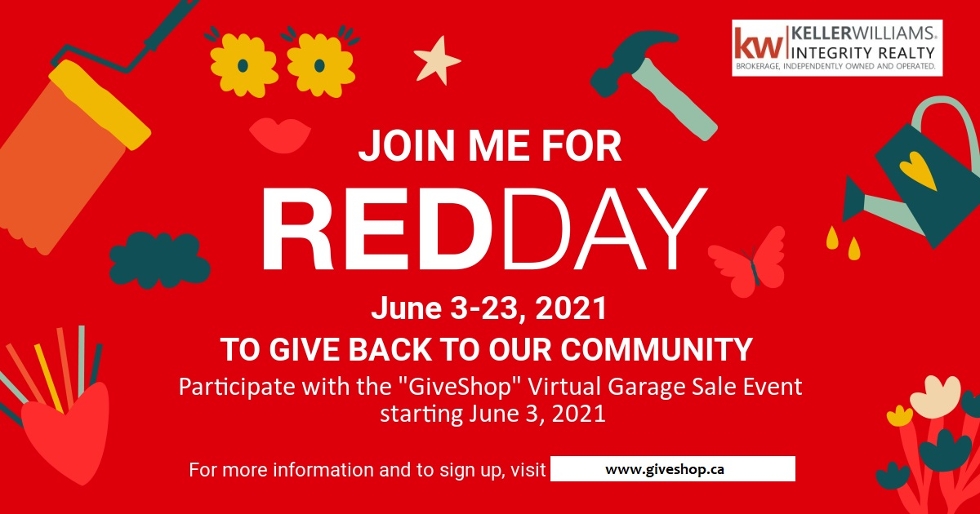 We've got a very exciting corporate initiative that we hope you'll join us in supporting! KELLER WILLIAMS INTEGRITY REALTY has entered a team into a Virtual Garage Sale fundraising campaign in support of the Royal Ottawa Foundation for Mental Health that kicks off on June 3 and runs until June 23, 2021.
The interesting twist on this initiative is that we're not asking anyone to donate any cash! Instead we're asking everyone to head to their basements, garages, attics or storage units and find a couple of quality items that you're willing to part with. The rest is easy and simple thanks to a new and innovative online marketplace called GiveShop (www.giveshop.ca).
GiveShop offers users the ability either to donate or purchase gently-used items, with the proceeds supporting an array of well-known charities – in our case Royal Ottawa Foundation for Mental Health.
Charities benefit from the proceeds of the items being sold on the marketplace. Donors of items sold on the marketplace receive a tax receipt. Buyers can make purchases with the knowledge that they are supporting a great cause! And we all help the environment by repurposing items that would otherwise end up in a landfill or sit in our basements, garages, attics and storage units gathering dust forever! It's a true win-win-win-win situation!
If you're interested (and we really hope you are!), there are a few easy steps to follow:
1. Visit www.giveshop.ca to set up your free profile - it only takes a couple of minutes.
2. Post an item or two on the GiveShop marketplace. Be sure to link your items to KELLER WILLIAMS INTEGRITY REALTY by clicking on the Campaign button and selecting THE ROYAL'S VIRTUAL GARAGE SALE and then KELLER WILLIAMS INTEGRITY REALTY.
3. Browse the product listings for great bargains, knowing that every purchase will benefit a great cause.
4. Donors and buyers communicate with one another privately within the GiveShop platform. Everything from communicating about item details, negotiating on price, making arrangements to view and pick up the item and even making the final secure payment is all done seamlessly through GiveShop!
5. Keep checking your inbox for regular updates on our campaign progress.
6. That's it!
We're super excited about this initiative and look forward to working together to raise money for such a great cause!
THANK YOU.